Manic Monday: How to Use Manicure Tools at Home
May 25 2014 – April Bush
At home manicure tools always make for a great girl's night in.  I love going to a salon and spa to get my nails done, but there is something girlie about doing my own nails, however having the proper tools is essential.  Here is a guide on my top five at home manicure tools, how to use them, and where to buy them!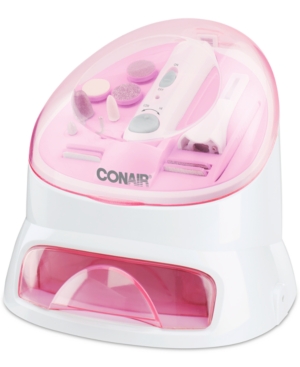 Conair  True Glow Nail Kit 
CLICK THE PRODUCT FOR DETAILS
The entire manicure process in one kit.  It includes a rechargeable nail tool, with multiple heads for shaping nails, while this is a more professional tool, I only recommend it if you have a nail tech friend that can use it on you in the privacy of your home.  This tool is great for a girls night in, invite a nail tech to come and do your girlfriends nails.  It's a good investment tool.  If you are one of those ladies who has a phobia about sharing your nail tools, this is a great option *smile*
Tweeerman Grip and Snip Spring Cuticle Nipper
CLICK THE PRODUCT FOR DETAILS
Use a cuticle nipper to remove your cuticles.  It's simple.  Gently close the blade of the nipper and open in short motions. Do not pull your skin or it will cut you, rather let the tool do the work. If the blade does not cut easily, the blade may be dull and it is time to replace the nipper.  Be surer to read the directions on the package of how to use it.
DIOR BEAUTY French Manicure Pen
CLICK THE PRODUCT FOR DETAILS
French manicures are classic and simple to do with this French Manicure pen.  The pen gives a precision line, don't worry about messing up another French manicure this is an ingenious product!
The Body Shop Handy Manicure Set
CLICK THE PRODUCT FOR DETAILS
This handy kit includes almond hand cream, 4 way nail buffer mini cream, Nail File that smells like almonds! and a metal nail clipper.  This kit comes in different scents. Use this for a quick maintenance in between your visits to the salon.
BUTTER LONDON Backstage Basics Boxed Nail Art Tool Kit
CLICK THE PRODUCT FOR DETAILS
I love great nail art, and no it is not a fad! A few bloggers got into nail art and now they are not into it anymore so it is no longer "cool" lol Nail art has been around for a very long time and it's not going anywhere.  Now, you can get polish and tools and create your own look.  This kit comes with a dotting tool, striping brush, and a clean up brush.  Check out YouTube for tutorials on nail art designs and do them with this kit.
"I LOUVRE SHOES"
from the Parisian Socialite Collection
Be sure to check out the entire collection of nail colors by Iconic Luxury Nail Colour
www.iconicluxurynailcolour.com